Brockway Entertainment is an urban music marketing & promotion company based in Ottawa, Ontario.

The mission of Brockway Entertainment is to assist independent Canadian hip-hop artists in exposing their music via radio, press & print throughout North America.
2011 Brockway Ent
Canadian Rap Future Superstars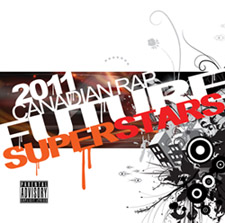 There are a few ways to get a copy:
* Download the 2011 compilation here (110 MB)

There is only one way to get a copy:
* Download the 2010 compilation here (110 MB)
Brockway Biggs
"In Awe of Simplicity" CD


Purchase Album

Hey everyone. You probably haven't heard from me in quite awhile. I suffered a few smaller concussions from mid 2010 to mid 2011, which I naively ignored. Then in August 2011, I suffered a big one. It's more than 7 months later, and my life is still paused as I very slowly recover. I haven't been able to tolerate listening to music since the "big one", so unfortunately, I wasn't able to put out a Canadian rap compilation last year (first time since 2002). I also haven't been able to pursue my own music since mid 2010. If you get hit in the head, pause & rest... cause if you've got a bad head injury, your injured brain might not be able to detect it. I will recover, it's just a very slow process.

It's the holiday season, so we're back with another compilation chock full of our favourite Canadian rap tracks from the past year. It features 34 Canadian artists and 24 Canadian beatmakers, spanning 11 Canadian cities including obsolete corners such as Comox, BC and Clarks Harbour, NS. 2010 Canadian Rap Future Superstars. Shoutouts to Mantrakid at 80Bit.com for the album design. The only way to get a copy:

* Download the 2010 compilation here (110 MB)

The Track Listing: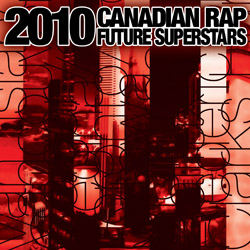 Brockway Entertainment has teamed up with Fillmore Street Brewery (home of Nelly's energy drink, Pimp Juice) to make their scholarship available to Canadian students with awards of $1750, $500, $250 and more. For more details, read the press release: in PDF or as MS Document.


I've been busy working on my own album, but I've been helping out the following folks with campus radio promotions. Request 'em at your local station!! Sean One, Skratch Bastid, Bonshah, Geoff Stevenson's "Cancon", Atherton & Sire and more...


Click here to read the December Newsletter.
Brockway Entertainment's Canadian Rap Mix 2006 contains 22 tracks featuring over 30 Canadian artists. It spans 10 Canadian cities, covering scenes as unexpected as Saskatoon, as obsolete as Dibgy, NS, and as major as Toronto. The CD is mixed by my friend, DJ Ducats, whose Peaceful Journey radio show on Ottawa's CKCU recently celebrated its 10-year anniversary.

The Track Listing:
01 - DJ Stereotype (Connecticut) - Hockey Night In Canada Intro
02 - Flight Distance (Ottawa) - Flypaper
03 - K-Os (Toronto) - Fly Paper
04 - Dragon Fli Empire (Calgary) - Language of Music feat Curtis Santiago
05 - Velvet Trench Vibes (Montreal) - High School Girls feat David Hodges
06 - Flip Kuma (Ottawa) - Strangers feat Allana Stuart
07 - Frenchi Blanco (Montreal) - Stylo
08 - Miracle (Digby, NS) Under the Ground feat Phakt
09 - Classified (Halifax) - See The Truth
10 - Theology 3 (Toronto) - Temptation Island
11 - Spesh K (Halifax) - Retirement Days feat Tassja
12 - Akuma & Factor (Saskatoon) - Never Let You Go
13 - JC (Halifax) - Feeling Fine (remix) feat Classified & Jay Bizzy
14 - DL Incognito (Toronto) - Live In My Element
15 - Cale Sampson of Rhythmicru (Toronto) - The Facts of War
16 - Ira Lee (Edmonton) - Magic
17 - Grubbs (Winnipeg) - Plague of the City
18 - Wordburglar (Toronto) - Breeze feat Pigeon John
19 - David Hodges (Montreal) - Interlude
20 - D.O. (Toronto) - Just Forfeit feat Slakah, Arabesque, G Stokes
21 - Brockway Biggs (Ottawa/Fredericton) - Shake Ya Caboose (Nevski remix) feat Prentiss Church & D.O.
22 - Classified (Halifax) - Believe it or Not feat Jay Bizzy, J-Bru, White Mic & Preacher K


It's been a real busy year & a half with many success stories. I've decided to take a break for a bit to spend time with friends & family and to get creative with my music again.


On Tuesday, May 9th, the Montreal-based magazine, Under Pressure, released their 4th Canadian hip-hop compilation, 'Up North Trip Vol. 4.' The compilation also includes a 10-year anniversary DVD celebrating the yearly urban festival that takes place in Montreal. www.underpressure.ca.


In my eyes, 2005 has been a great year for Canadian independent hip-hop. I thought I'd share my list of my favorite Canadian songs of 2005.

01 - Classified - It's Just My Opinion (Prod. by Classified)
02 - Skratch Bastid/John Smith/Pip Skid - Murphy's Law feat Sleep (Prod by Bastid)
03 - Touch - SP Twelve (Prod by Nato)
04 - Alpha Flight - If I Could Be (Prod by Ghettosocks)
05 - David Hodges - Feel Your Soul (Prod by Devize)
06 - Josh Martinez - Tour Is War (Prod by Samix)
07 - Rezofficial - Keep On Movin (Prod by J Mak)
08 - Alpha Flight - Mahogany Office (Prod by Mr. Bix)
09 - Miracle - Darkness Falls feat Mickey D & Monark (Prod by DJ Higga)
10 - Mcenroe & Birdapres - Break Merchant (Prod by mcenroe)
11 - Brockway Biggs (aka Pimp Tea) - Pinch Hitter (Prod by Sean One)
12 - Gruf - You Need to Relax feat Pip Skid (Prod by mcenroe)
13 - Mickey D - It Feels Good feat Miracle (Prod by Suave)
14 - Rikoshay - Stomp (Prod by Rikoshay)
15 - Jay Bizzy - Dirt Dessert (Prod by Dexter Doolittle)
16 - Mood Ruff - Petula The Cougar (Prod by Anonymous Twist)
17 - Ken Masters - Fall on your Face (Prod. by Aliby)
18 - JC - Love Song (Prod by Trobiz)
19 - Soso - The Goose Hunter pt 2 (Prod by Soso)


Jay Bizzy's VideoFACT video for 'East Coast Warriors' featuring Classified and Johnny Hardcore hit MuchMusic last week. Request It!


Congrats to VideoFACT recipients: Eternia for 'Love' AND to DO for 'Just Forfeit' feat Arabesque & G.Stokes.


Classified's video for 'No Mistakes' hit MuchMusic last week, landing in medium rotation. Request It!


Spesh K's video for 'Knockin Em Down' hit MuchMusic last week, landing in medium rotation. Request It!


The new Exclaim is out! Check pg. 86. The !Earshot campus hip-hop charts for the month of April have Classified at #9 and Spesh K at #10!


The late nineties classic, Cock Dynamiks has been re-released on Hand Solo Records today. It features exclusive tracks from Buck 65, Moka Only, DJ Moves & more.